Buying insurance is one of the major investments in your life and perhaps you would want to consider investing it wisely. It is meant to safeguard us, at least financially in case anything happens to you in the future.
But there are numerous insurance options available – different plans cater to different needs. In Malaysia, one of the most important ones is medical insurance to protect an individual from unexpected high medical costs. According to a recent survey, Malaysia's healthcare cost saw a 14% spike in the year 2020.
H1 What is medical insurance?
Medical insurance is meant to cover most if not all medical expenses of the insured. The coverage depends on the annual insured amount and lifetime limit. The medical coverage varies from each plan depending on your budget and needs.
H2 Understand the type of coverage under medical insurances
There are three major types of medical policies and each of them caters to different needs.
Medical card: covers for treatments, hospitalisation expenses, and surgical operations
Critical illness insurance: provides additional coverage for medical emergencies like heart attacks, strokes, or cancer
Permanent disability insurance: covers the cost of living of the person who is disabled for life due to illness or injuries.
Note: However, different insurance companies provide different ranges of coverage, you may have to do a comparison to see which one fits your needs and budget!
H3 Your medical insurance can come as a lifesaver in your time of need. Here, we provide some basic tips that you can refer to, before planning to purchase any insurance!
Waiting period
A waiting period is the time span from when you buy your policy to when you start getting coverage from it.
Most medical insurance plans have a waiting period, meaning that the insured is not allowed to make any claims from the insurer. Typically the waiting period is around 30 and 90 days. You should check first for the plan's waiting period before buying. Try to get the lowest period so you will be able to enjoy an all-inclusive coverage at the earliest.
Exclusions
Exclusions are usually the risks that will not be covered by the insurance company. These are the conditions excluded from the insured event to avoid losses to the insurer.
Common exclusions in medical insurance policies:
Pre-existing medical conditions
– They are any ailments that you already have while applying for insurance. Different insurances have different waiting period clauses for pre-existing illnesses.
Injuries caused due to suicide attempts
Most health insurance plans do not cover injuries caused by acts of self-harm or suicide attempts. An insured will not be covered if he purposely harms himself.
Check out the list of 'network hospitals'
Network hospitals are a crucial part of medical insurance policy where they allow the insured to avail cashless treatment. You do not have to foot your bills in case of hospitalization or surgery, because the insurance company will help to clear out the expenses for you.
However, this cashless treatment is only available at the hospitals that have agreement with the insurance company. Otherwise, you may have to clear your own bill.
You should check out the list of 'network hospitals' when buying the plan if your preferred hospital or the hospital in your vicinity is covered under the plan you choose! It will ease your claim process if you know your network hospitals beforehand!
Lifetime and annual limits
Know the differences between these two limits to help you get suitable medical plans that fit your budget. It will affect how much coverage you get as well as the price of your premium.
The lifetime limit is the maximum amount that your medical insurance policy will cover for the entire policy period. Meanwhile the annual limit is the maximum amount your medical insurance policy will cover you for in a year.
Deductible
A deductible is an amount that you have to pay before the insurance company starts paying up your medical costs. Many medical insurance packages allow you to choose between a deductible of zero or a greater deductible. If you opt for a zero deductible plan, you do not have to pay for anything when you are admitted to the hospital as the total cost will be borne by the insurer.
Co-insurance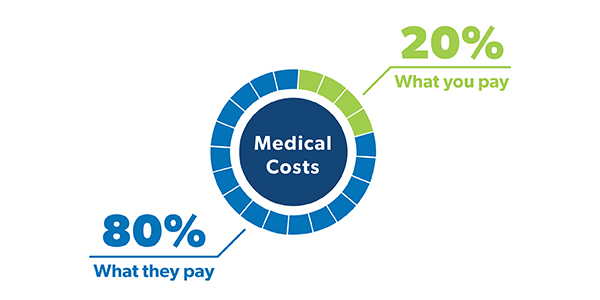 Co-insurance is a percentage of a medical charge that you pay, while the rest of the cost is covered by your medical plan. Say if you have 20% co-insurance, then you only have to pay 20% of the medical cost as another 80% will be borne by your insurance company.
Note: If you pay for a higher deductible or coinsurance, you may enjoy a lower premium! However, do take note that not all insurance companies provide the same deductible and coinsurance policies.
---
The above-mentioned factors are among the factors that should be considered when determining which plan is the best that will fit your insurance requirements.
With as low as RM5 a day, you can provide a better future for yourself and your loved ones. Get a comprehensive life and medical insurance plan at Bjak today!
(Sources: Focus MY, Prudential MY, Investopedia)